DIGITALIZE YOUR
MANUFACTURING COMPANY
5 STAGES TO DIGITALIZE
YOUR MANUFACTURING COMPANY
How can you improve your production processes with data monitoring, IIOT and AI?
And In what stage of digitalization are you?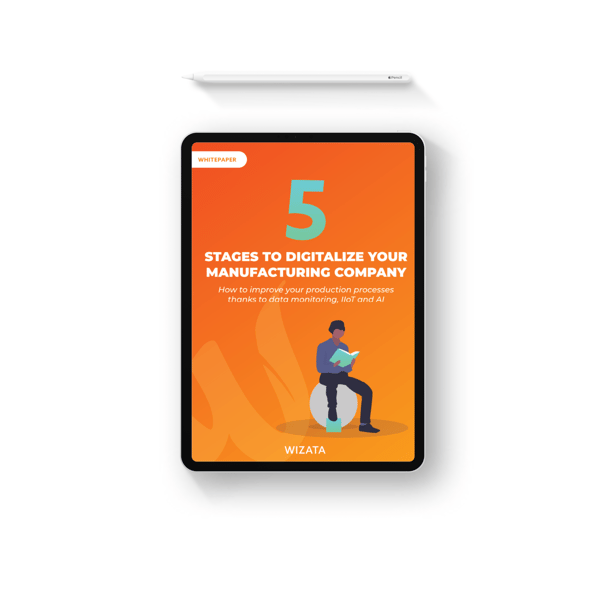 Many companies know that growth goes through moving towards the implementation of AI and IIoT models in their business.

But some of them are still asking themself a questions:

●

Are we taking advantage of all the opportunities new technologies have for business in terms of efficiency and productivity?


●

How to remain competitive in the age of digital transformation?


●

How will digital transformation improve process and assets management?


●

In what stage of digitization my company?
With this Ebook you will learn the keys to process your data!
We are here to give you an answers on how you can improve your business with:
Real-time monitoring and management of all your processes and machinery
Improve Overall Equipment Effectiveness (OEE)
Find meaningful patterns to make more accurate predictions
Prevent losses in your production process
Avoid assets failures and downtime
Find information about:
Data monitoring and analysis to generate valuable insights
Device connectivity for data processing and control
Improvement of decision-making thanks to AI
Advance through digitalization journey
This Ebook is for the ones who also want to discover the keys to each stage, the challenges you will face and how to overcome them.
For learners on how to move forward through digitalization and transform your productive process into a competitive advantage.
Are you ready to start leveraging the power of data for process optimization?
Get a free copy of our Ebook and discover how to join digital transformation for process optimization and revenue growth!
Martina Zanetti is our long-term leading project manager.
Experienced in processes and AI innovative technologies, she's here to share her knowledge with you. Having years in her background in working with software engineers, data scientists, and AI experts, Martina collected the best from them all and made this unique and comprehensive Ebook.